2016 Gold Coast Magic Millions Sales Exceeds and Excels on Day 1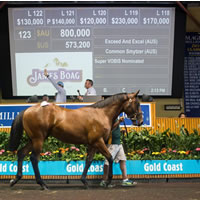 A colt by Exceed and Excel was the star on Day One of the Magic Millions Gold Coast Yearling Sale selling for $800,000 on a day when figures rose across the board.
The gross soared 25 per cent on last year's corresponding opening day, while the average also impressively climbed 11 per cent – the clearance rounded out at over 80 per cent.
The top seller was one of eight youngsters to sell for half a million dollars of more during a healthy opener to the country's best performing auction for Australian racetrack stars.
Lot 123, the Exceed and Excel x Common Smytzer colt, rounded out the day on top of the leaderboard when he was knocked down to Hong Kong based bloodstock agent George Moore.
The colt offered by Steve and Ceri Jostlear's Ampulla Lodge from Bunyip in Victoria is a full brother to Maribynong Plate winner Exceedingly Good and half brother to Singapore star Better Be the One.
It was fitting the colt would top the day behind from a stakes performed mare by Snippets. This year is the 30th anniversary of Snippets' landmark win in the inaugural Magic Millions 2YO Classic at the Gold Coast.
After a fierce bidding battle it was Moore, positioned out behind the sale ring who held the bidder the hammer fell. He was flanked by his father, Hong Kong training champion John.
"We bought him on type not too much on pedigree," John Moore said. "It's the athlete we are looking at."

"He'll be given his opportunity to trial in Australia and then we'll see where he fits in."

"He'll possibly go to Gary (Moore, brother). We just thought he was a quality athlete and the type of horse that fits our criteria.

" The second top seller on the day was the Fastnet Rock-Dream Play filly from Kia-Ora Stud who was purchased by Paul Perry on behalf of the Gillard family for $750,000.

"I'm very excited about that purchase," Steve Gillard said. "The type and the page – we do a bit of breeding and Paul's probably the best judge in the world."

"He thought she was a great type and we're very excited to be able to get her."
The filly, catalogued as Lot 168, is the full sister to VRC Sires' Produce Stakes winner Zululand and is from a Group Two winning daughter of Hennessy.
Another of the day's stars was Lot 139 – the Street Cry x Dances on Waves colt consigned by South Australia's Mill Park.
The attractive bay colt was secured by Michael Wallace for $725,000 after outbidding the Hong Kong Jockey Club.
"He's been a proven international sire for a long time and sadly we're not going to see any more of them."

"He's from a very talented mare and they've got a good opinion of the two-year-old who is with Gerald Ryan."

"This colt has been purchased by the China Horse Club in partnership with Winstar Farm in America," Wallace added.
First season sires were well sought out on Day One with the highlight being the $510,000 sale of the All Too Hard x Factor of Safety filly who was purchased by James Harron Bloodstock for $510,000.
The day concluded with over $29 million traded on 158 lots sold at an average price of $184,332. The clearance rate was over 80%.
"The highlight has to be the big jump in average price," Magic Millions Managing Director Vin Cox reported. "That's just fantastic."

"The 80 per cent clearance rate and turnover of over $29 million is a good foundation to start the sale from."

"As we know when sales go on they can get stronger, so let's hope it is the case with this sale."
To view the results and to make an offer on a passed in lot click here.
Day Two of the Gold Coast Yearling Sale will commence at 10am (Qld time) on Thursday.
2016 Gold Coast Sale Day 1 Statistics
(2015 Day One in Brackets)
Lots Catalogued: 216 (200)
Lots Sold: 158 (140)
Lots Passed In: 39 (41)
Sale Gross: $29,124,500 ($23,335,000)
Top Price: $800,000 ($850,000)
Average Price: $184,332 ($166,679)
Median Price: $150,000 ($130,000)
Sold %: 80 (80)
2016 Gold Coast Sale Day 1 Top Sellers
$800,000 – Exceed and Excel-Common Smytzer colt (Lot 123)
Vendor: Ampulla Lodge / Buyer: George Moore Bloodstock (Hong Kong)
$750,000 – Fastnet Rock-Dream Play filly (Lot 168)
Kia-Ora Stud / Paul Perry Racing (NSW)
$725,000 – Street Cry-Dances on Waves colt (Lot 139)
Mill Park (As Agent) / China Horse Club/Winstar Farm (Hong Kong)
$625,000 – Street Cry-Aloha colt (Lot 15)
Baramul Stud / Spendthrift Australia (Vic)
$550,000 – Fastnet Rock-El Laoob filly (Lot 179)
Newgate Farm (As Agent) / Thomas Li (Hong Kong)
$525,000 – Snitzel-City of Song colt (Lot 115)
Yarraman Park Stud (As Agent) / James Harron Bloodstock (NSW)
$510,000 – All Too Hard-Factor of Safety filly (Lot 208)
Woodside Park Stud (As Agent) / James Harron Bloodstock (NSW)
$500,000 – Snitzel-Air's Precious colt (Lot 7)
Eureka Stud (As Agent) / Spendthrift Australia (Vic)