2015 Magic Millions Perth Yearling Sale Catalogue now online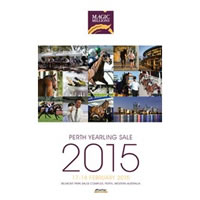 The cream of the Western Australian thoroughbred crop will go under the hammer at the 2015 Magic Millions Perth Yearling Sale at Belmont Park.
The 2015 catalogue has brought together a first class line up of potential racetrack stars with 396 lots to sell over two days on February 17 and 18. The catalogue is now online.
The sale has a proud history of producing world class gallopers at value prices.
Past graduates include Group One winners Scenic Blast, Luckygray, Moment of Change, Eagle Regiment, Playing God, Barely a Moment, Scenic Shot and this summer's Group One winning sprinter Magnifisio.
The catalogue includes half, three quarter or full relations to group winners including Kusi, Lim's Objective, Old Fashion, Playing God, Charlie Boy, Clueless Angel, Conservatorium, God Has Spoken, Hobart Jones, Honorine, King Saul, Lords Ransom, Moccasin Bend, Salade, Balmont Girl and Graceful Anna and many more.
Star mares will yearlings catalogued include:
Group 1 winners: Belle Bizarre, Honor Lap and Shapira
Group 2 winners: Born Priceless, Lady Mulan, Moccasin Bend and Mystic Chantry
As well as over 30 further stakes winners.
There are no fewer than 89 individual sires represented – headlined in numbers by Blackfriars with 42 lots.
Exciting first season sire Dick Turpin has 35 yearlings represented.
Others with large numbers catalogued include Scandal Keeper (31), War Chant (30) and Oratorio (20).
To view the online catalogue click here.
It is also available for download on iPad via the equineline Catalog App.