2014 Caulfield Classic – Analysis for the VRC Derby
by Dean Elliott.
Rather than do a generic preview of this race, I thought we are best placed to look at this race with the VRC Derby in mind.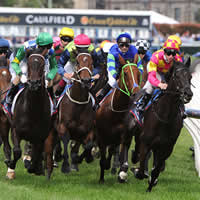 Therefore, I have gone through each Derby hopeful in this field, with a checklist of things we need to see in order to have them saluting in the big feature in two weeks' time.
Let's go in order of race book entry:
#1 KUMAON
I need to see this horse show that he'll run the Derby trip, as I have some doubts about him being able to do so. Given that he comes through the superior Caulfield Guineas form line, he would have to be winning this race, being VERY strong through the line for me to consider him a Derby hopeful.
Previous trainer Peter Snowden has gone on record saying he's not really a 2500m horse, and I'm happy to concur with those thoughts until we see otherwise. Especially given the record of those going to the Derby via the Guineas.
$3.70 at Sportingbet
#2 MERION
As per above. Mike Moroney is a little guarded as to whether he can run out the trip, which means I am too. You have to listen to these trainer comments, especially when they come from somebody who knows his way around a stayer such as Mike Moroney. I'm not totally discounting him yet, but he'll need to fulfil the same criteria as mentioned with Kumaon.
$5.50 at Sportingbet
#3 BACHMAN
The real query runner. On face value his run last start may have looked a touch disappointing. However when you consider the weight he carried and what the winner has since gone on to do (Hampton Court, Spring Champion Stakes winner) perhaps you can mount a case for him.
Gerald Ryan did the right thing backing him up last start, so he gets on to the 'right leg' in Melbourne going 2 weeks x 2 weeks into the Derby.
I need to see this horse really attack the line to prove 1) he doesn't need a wet track to be at his best and 2) to show that 2500m will be a suitable trip for him.
$6.50 at Sportingbet
#4 MAGICOOL
As mentioned previously, I'm a big fan of this galloper. I need to see a couple of things from him tomorrow:
Settle into a position in a more mature fashion than he did last time
Concentrate on finding the line, without star-gazing like he did last time
Prove that he is up to the class of those that competed in the Guineas
If he can do this and finish top 2, he will be mighty hard to beat in the big one.
$6.50 at Sportingbet
#5 FIREHOUSE ROCK
The last horse to win the Derby in his first prep was Efficient, who was also good enough to win a Melbourne Cup. For me, this bloke to warrant a start in the race, he needs to put in a personal best performance and present in the best condition he has all prep. Obviously a horse with ability, he might be better suited in an autumn Derby.
$31.00 at Sportingbet
#6 WAR POINT
Not a Derby prospect based on my criteria
$15.00 at Sportingbet
#7 LIGHT UP MANHATTAN
This horse has had a perfect grounding for the Derby, however the big query is his class.
Last time he was specked at odds when a distant 4th to Magicool and Atmosphere. The blinkers first time will certainly help and if they can sharpen him up into placings, he will come into serious contention. There is no denying the 6 length margin last start between he and Magicool though.
$41.00 at Sportingbet
#8 HAWKING
Not a Derby prospect based on my criteria
$41.00 at Sportingbet
#9 JUSTAWAY
Has SA Derby written all over him. I feel it is all happening a bit too soon for him, but do like him as a future prospect.
$34.00 at Sportingbet
#10 CUBAN FIGHTER
Similar to Justaway. Has a future, but will be better in 2015.
$71.00 at Sportingbet
#11 HOME RUN HERO
Handy type, but not the VRC Derby winner
$71.00 at Sportingbet
2014 Caulfield Classic Summary
Most at Stake: Kumaon and Merion
Need to show that they will be suited by a testing 2500m and deny recent trends with Guineas runners heading to the Derby
Most to be gained: Magicool
If he can measure up to this class over 2000m, then he'll has these runners covered by a long, long way once they get to Flemington
Most queried: Bachman
Not sure what to make of him. Tomorrow will tell us a lot
The 2014 Caulfield Classic is set to jump at 2.45pm tomorrow at Caulfield.
Article written by Dean Elliott (BDM at William Hill and Horse Racing & Breeding enthusiast)