2014 Burrumbeet Cup only 6 weeks away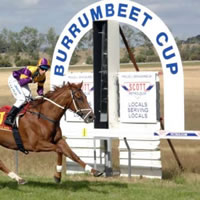 Only 6 weeks to go until one of Western Victoria's most popular country cups graces the picturesque Burrumbeet racecourse on New Years Day, the time-honoured Burrumbeet Cup!
Always one of the highlights of country racing to bring in the new year, the 2014 Burrumbeet Cup is set to be another cracking meeting with exciting racing action and plenty of free fun activities for the kids to enjoy themselves.
The Burrumbeet Park & Windermere Racing Club put on a wonderful day of racing in a picnic type atmosphere, where family entertainment is the focus, providing a great day out for all members of family.
I caught up with fellow committee member and Club President Rod McKinnon this week to discuss preparations for the 2014 Burrumbeet Cup to share what has been happening since the Club's very successful meeting last January.
"It's been a big twelve months for the club, we've been very busy," Rod said.
"VRIF funding and our Premier Dennis Napthine have been very helpful to us."
"We've got a new horse wash going up, we've had a new security fence put down the start of the straight."
"And probably the most noticeable thing that will happen this year is that all the buildings are being freshly painted which is really standing out."
>>> Full interview with Club President Rod McKinnon here
The 2014 Burrumbeet Cup will take place on Wednesday 1st January 2014 and is once again being sponsored by Scotts Petroleum, who have been a fantastic supporter of the club over the years.
Burrumbeet Cup Day is about the kids enjoying themselves with Mum & Dad in a fun, family atmosphere, and there's a plethora of free activities in the 'Kids Zone' to keep the little ones occupied.
There's also a 'Kids Dash For Cash' during the day which is always great fun, plus it will tire the little ones out so parents can relax later in the evening.
Marquees & Umbrella packages are selling fast and we encourage you to head to the Burrumbeet website at Country Racing Victoria to book your spot so you don't miss out.
>>> Visit the Burrumbeet Park & Windermere Racing Club website here
Alternatively, Call club Secretary Paul Brumby directly on 0458 445 225 to make any enquiries or become a club member.
BONUS OFFER: Ask Paul about becoming a member of the BP & WRC before November 30th and pay just $40!