The Dam is Ready to burst for these excited first time owners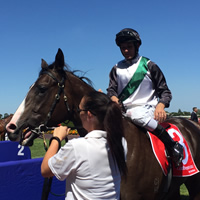 Buying into a racehorse for the first time is an exciting affair, and when the horse involved makes it to the track and exceeds your expectations, then the excitement just builds.
And that's how it was yesterday for 5 first-time owners from Ballarat, who make up the B Sharps Racing syndicate in the David Hayes & Tom Dabernig trained Dam Ready.
A 2yo colt by More Than Ready from Waterwise, Dam Ready made his debut in the Group 3 MRC Chairman's Handicap at Caulfield and ran an encouraging 4th behind speed machine Extreme Choice.
Josh Jones, Brendon Gray, Jason Barnett, Justin Sculley and Heath Maloney make up the syndicate and to say they were excited by their first day out as owners is an understatement.
Syndicate Manager Josh Jones was full of praise for Lindsay Park and the whole process that brought them to Caulfield to see their horse race for the first time.
"After years of a mutual love for the races, and continuously going to Cox Plate meetings and the like, seeing people's excitement as their horse rattled home for the win, we decided it was high time we got in on the action," Josh said.

"When we started we didnt really know what to expect so we rounded up the 5 of us and started looking for a nag, hoping to get into something that would maybe get us to the city one day."

"We set out looking for a reasonably priced share, and without having much luck at first, we put out the feelers and found some connections at Lindsay Park with a young colt by More Than Ready from Waterwise."
As it happens, the young colt is a full-brother to smart performer Centre Pivot and that helped sway the boys to get involved.
"We thought this looked like a good starting point, so jumped at the chance and got our syndicate started, which turned out to be much simpler than I had imagined at first, then we waited."
To get a horse to the races as a 2yo is a great effort by the stable involved, and also great for the owners, especially those getting involved for the first time.
"When he started doing a bit of trackwork we started to get really excited at the possibilities that lay ahead."

"One minute we were looking at races at Kyneton in 4 weeks time as a possible starting point, the next minute someone (Brendon) would suggest we may as well just win the slipper!"

"But after several weeks of watching and waiting for updates, nominations and acceptances, we were absolutely stoked when Dam Ready accepted for his first race, and it was at Caulfield of all places."
When the syndicate formed they were hopeful of maybe having a city runner one day, but to get there at its first start was beyond their wildest dreams.
"We could only have hoped to get here one day, but here we are, starting out as owners at a Group 3 race!"

"I dont think you could have found 5 more excited blokes in the lead up to the race, and with good reason, Dam Ready ran a very good race behind a very smart horse to finish 4th, and gave us a lot of hope for the future."
As for Lindsay Park, Josh and his fellow owners are full of praise for the way David Hayes & Tom Dabernig and his hard working team go about it.
"We have been absolutely stoked by the way everything has been run and the communication from everyone at Lindsay Park, and its made the process an enjoyable one."

"I would be very surprised if we dont have another share in a horse sooner rather than later."
Fair to say that these excited Ballarat lads have been bitten by the horse racing ownership bug, and once you are bitten, the only cure is getting into more horses.
Good luck with Dam Ready and happy to say we have a little piece of him too, that's because we got bitten some time ago and there's no cure once you snare a winner!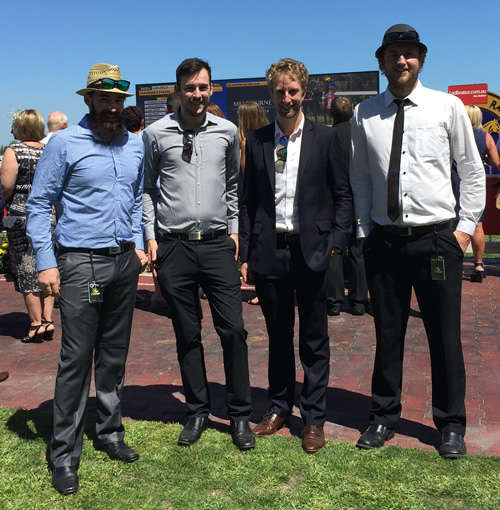 B Sharps Racing – Josh Jones, Jason Barnett, Brendon Gray and Justin Sculley
(Heath Maloney absent).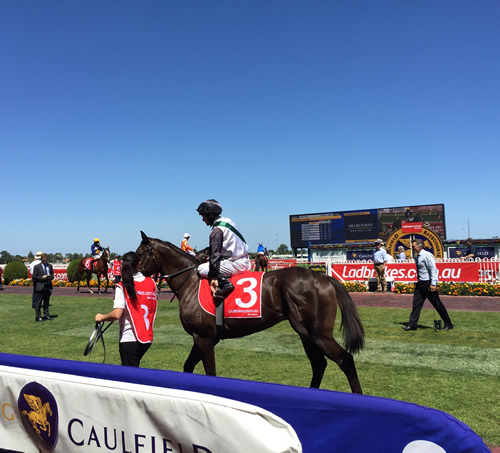 Dam Ready in the mounting yard at Caulfield with Luke Currie aboard.