Ballarat's back with a Wonderous Winters Day!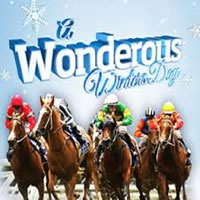 The Ballarat racecourse is looking in outstanding shape for a welcome return to racing on Sunday 1st June 2014, with a Wonderous Winters Day forecast for the family.
The Ballarat Turf Club has done a fantastic job upgrading the course proper over the past eight months and will celebrate the running of their first race meeting since the 2013 Ballarat Cup last November.
Kids can enjoy a range of terrific activities including jumping castle, Wii games, tabloid sports and real snow on what should be a wonderous day out for the whole family.
Around 30 cubic metres of snow will turn the Ballarat Turf Club into an amazing winter wonderland where children will be able to enjoy toboggan rides, snowman making competitions & more.
The unveiling of the upgraded course proper will highlight a quality day of racing and a number of dining options will be available on course for patrons.
Call the club on (03) 5334 6273 or email to book your spot.
Gates open at 11am for Wonderous Winters Day with admission $10 for Adults and children under 16 free.
Visit the Ballarat Turf Club website at Country Victoria for more information.