Boban makes it a memorable Memsie Stakes Day at Caulfield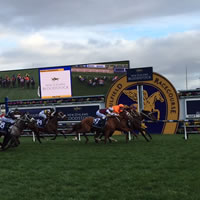 The weather was more like winter but the atmosphere at Caulfield certainly wasn't grey and gloomy to match, with a cheerful crowd of 7,500 there was a real sense of spring in the air.
The feature race of the day was the New Zealand Bloodstock Memsie Stakes, the first Group 1 race of the season in Victoria, won by the Chris Waller trained Boban who came flashing home up the inside rail under jockey Glyn Schofield.
The action off the track was just as memorable with some former equine stars competing in the Racing Victoria (RV) Off the Track Triequithon.
The unique event saw 12 talented retired racehorses complete three exciting equestrian disciplines on the public lawn between races: dressage, show jumping and cross country.
Top Australian event rider Rob Palm and his mount Koko Pop took Triequithon victory, closely followed by the youngest competitor on the day. At only 15 years old Nina Griffiths and her thoroughbred, Mr Ali, finished runner-up but they were thrilled to have been competing against some of the best in Australia.
There were some busy racing families on the day including Tayla Childs and Stephanie Thornton who were placed third and fourth respectively in the Triequithon whilst their brothers Jordan Childs and Damien Thornton, both professional jockeys, competed on the track.
For more information about Memsie Stakes Day at Caulfield visit the Melbourne Racing Club.