Seismic effort by UK Bloodstock Agent Chris Blomeley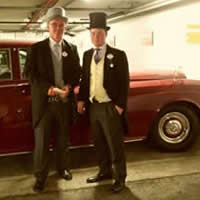 There's plenty of quiet achievers in the racing game and UK bloodstock agent Chris Blomeley certainly fits into that category.
As Seismos soared to victory in the Group 3 Geoffrey Freer Stakes last Saturday in England, much to the delight of his new Australian owners, Chris, the agent who spotted the horse, was ticking off yet another astute purchase on behalf of his clients.
Chris negotiated the Seismos deal earlier this year in a private securement for Darren Dance & Australian Thoroughbred Bloodstock for Newmarket based McKeever Bloodstock.
His canny knack of finding the right horse for his clients is second to none in the industry and his broad racing knowledge sets him apart from his contemporaries, with a strong work ethic to match.
[blockquote]Chris grasped the opportunity to become a bloodstock agent in his own right and to work with Johnny McKeever.[/blockquote]
Hailing from a racing family, Chris was drawn to the industry from an early age.
As well as attending the races with his parents whenever sport and study allowed, he was an eager assistant at the stables of his hobby trainer uncle when at the family farm in Northern Victoria.
Whilst completing his studies in Business at RMIT University in Melbourne, Chris joined Adrian Hancock at the sales during his holidays and not only learnt his trade from one of the industry's most respected agents but also made the connections to progress his career upon graduation.
Originally Chris relocated to New Zealand to take up a marketing role consulting to a number of major stud farms.
He used his time to not only widen his network but to pick the brains of the experienced and esteemed horsemen over the ditch.
Upon returning to Australia he took up a role with Adam Sangster at Swettenham Stud selling nominations, bloodstock, and contributing to the marketing of the farm.
It was during this time that Chris first met Darren Dance of Australian Thoroughbred Bloodstock (ATB).
On Adam's recommendation Chris took a role with Australia's leading auction house William Inglis & Son.
At Inglis he was responsible for private trading, online sales as well as taking on sales day responsibilities and helping his clients with horse selection.
It was during his time at Inglis that he and Darren really developed the working relationship they have today, initially working together on some minor bloodstock deals before Chris suggested that Darren should buy the major share in Melbourne Cup runner Unusual Suspect.
From there things grew exponentially.
With Darren's backing, Chris identified ATB's 2012 Melbourne Cup runner Jakkalberry and made the initial approach required to secure the horse.
At this time that Darren also included Chris in the process of identifying yearlings to be purchased.
Before Jakkalberry had ran in the Cup that year, Chris was given the chance to take up his current position at McKeever Bloodstock in Newmarket, the home of international racing.
He grasped the opportunity to become a bloodstock agent in his own right and to work with Johnny McKeever, one of the leading agents in Europe and a man who has been responsible for the purchase of numerous Group One winners.
The role allows Chris to concentrate primarily on the Australasian market and to travel for all the major Australian yearling sales where he represents Darren and a number of private clients.
McKeever Bloodstock has had plenty of Australian success since Chris joined the firm, with The Offer, Glencadam Gold and Gordon Lord Byron all among their purchases.
Chris has a good eye for a good horse and as you read this, he's probably already found another candidate for international success, with a phone call to Darren Dance in the offing and a new recruit on its way to the ATB stable.
If history is any guide, yet another group of ecstatic Australian Thoroughbred Bloodstock owners will be cheering their horse home first in a major race, largely thanks to the foresight and hard work of Chris Blomeley.