The Greatness of Frankel leaves a Lasting Impression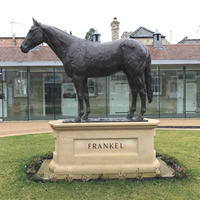 The recent win of Chris Waller colt Merovee brought up the first win on Australian soil for former champion racehorse and now outstanding sire Frankel.
Merovee is out of More Than Ready mare More Strawberries, who won 4 races, including the Group 2 Furious Stakes and Group 2 Tea Rose Stakes, and $843,200 in prizemoney.
It's likely to be the first of many Australian winners for this quality stallion as more of his progeny hit the ground running on these shores.
We were lucky enough to be at Royal Ascot in the UK in 2012 with Darren & Liz Dance and Australian Thoroughbred Bloodstock when Frankel delivered one of the most jaw dropping victories we have ever had the pleasure to witness.
Frankel demolished a top field in the Group 1 Queen Anne Stakes, the opening race of the carnival, by a whopping 11 lengths, leaving in his wake the likes of Excelebration (2nd), Side Glance (3rd) and former Group 1 Caulfield Guineas winner Helmet (7th).
It was an explosive victory, and being there to witness the sheer arrogance of Frankel putting his high-class rivals to the sword is an image indelibly etched into the racing highlights memory reel of this racing fan.
The following Saturday Australia's wonder mare Black Caviar won the Group 1 Diamond Jubilee Stakes by the narrowest of margins and we were privileged to see two once in a lifetime gallopers doing what they do best, thrill racegoers on the biggest stage of them all.
Frankel's dominant win left a long-lasting memory on many people that day, us included, but it also had a great impact on one of Australia's biggest syndicators and beckoning breeder, Darren Dance.
It's fair to say Darren saw an opportunity, one that would pay dividends off the racecourse and in the breeding barn.
Frankel Makes An Impression
We'll let Darren take it from here!
"I guess I was lucky enough to be at Royal Ascot the day Black Caviar won the Diamond Jubilee Stakes at Royal Ascot and just happened to be the same week I saw Frankel win by some 11 lengths on the first day of the carnival," Darren said.

"I couldn't believe a horse could win at that level on that day by such a big margin."

"He went past me, and I was right on the fence of the finish post, and I took a lovely shot of him fully airborn, with all four feet off the ground."

"I went back and had a look at him post race in the enclosure and couldnt believe what a lovely specimen Frankel was."

"A couple of days later we were invited out to Juddemonte Farm to have a look at Frankel in the yard and I was just totally taken with the horse."

"I doubt I've seen a stallion as impressive as Frankel in all my life, and I've seen a lot of stallions over the years."
At this point in time, one suspects that while Darren Dance was gazing awestruck at the magnificence of Frankel, the little syndicating breeder guy tapping on his right shoulder was showing him little Frankels running around Manningtree Park with dollar signs all around them.
Needless to say, from greatness, opportunities arise, for those brave enough to take them, and Darren is certainly braver than most, especially when it comes to backing his judgement.
Greatness Creates an Opportunity
An opportunity arises and it was delicious, well Chocolicious in fact!
"I decided at the point, that despite his massice service fee, that we would, if we could, breed mares to him southern hemisphere, because I needed to back my judgement in the fact that he was such a magnificent beast, " Darren said.

"First cab off the rank was a mare we raced in South Africa who was a Group 1 winner called Chocolicious."

"We sent her up to Newmarket in the UK and then across to Frankel, and then brought her home to Australia and we got a lovely filly by Frankel that subsequently went through the Easter Sale and made $610,000."

"The filly, eventually named Mazaaher, sold to South Africa to be raced by Shadwell and trained by Mike De Koch."

"At this point in time she is yet to debut, so we are just waiting patiently for her to have her first run, but the reports from the stable have been very encouraging."
Chocolicious went on to produce a lovely Fastnet Rock filly that sold for $240,000 at the Magic Millions Gold Coast National Weanling Sale.
The filly is trained by Ciaron Maher and is yet to make it to the races.
The Frankel opportunities continue
Not one to rest on his laurels, Darren made the most of his opportunities.
"To follow on from Chocolicious, we then decided to buy another mare to go to Frankel," Darren said.

"We ended up buying a Dansili mare in the UK named Thai Noon, who was a mile winner over there."
Thai Moon is by Dansili from Giant's Causeway mare Alsace Lorraine.
"She was just so well related, by Dansili out of a Giant's Causeway mare, with a family chock full of black type winners all the way through," Darren continued.

"Thai Noon is a very impressive looking mare, good size, plenty of bone, and a walk to die for."

"She's due to foal mid September this year and she'll be re-mated back to Frankel later this season."
Why stop at one mare for Frankel when you can have two!
"Also this year we've managed to send our own mare Azardi acrross," Darren said.

"Shes produced a Group 2 winner, and is to be mated with Frankel this season."
Azardi is by Desert Prince out of Centaine mare San Century.
Someone once said, 'Opportunities are disguised as hard work, so most people don't see them'.
Will the Frankel hard work pay off?
Having taken his opportunities, which in truth, involved much hard work for Darren Dance, would they pay off for his loyal band of grateful owners?
The logisitics and cost involved conversing from Australia to the UK and back with valuable broodmares would be a nightmare for most people to contemplate.
For Darren Dance, it was an opportunity to be a part of the greatness that is Frankel.
"It was so good to see the Chris Waller trained Frankel galloper win earlier this month at Newcastle," Darren said excitedly.

"It was very encouraging to see Frankel have his first winner here in Merovee, and I think the one that Robbie Laing trained ran home his last 200m in 10.9 the other day at Flemington and wont be long before he is in the winner circle as well."
The Robbie Laing trained Frankel is named Frankel My Dear and is out of Rainbow Quest mare Buenos Aires.
Frankel My Dear is scheduled to go around tomorrow at Moonee Valley in the McKenzie Stakes (1200m) and Darren Dance will be a keen observer, along with ourselves, as we have a little slice of the Chocolicious & Thai Noon Frankel pie too.
Whatever may come tomorrow with Robbie Laing's promising Frankel colt, it's just the beginning in Australia for the progeny of the horse that made such an impression at Royal Ascot over five years ago now.
"While he's dominating overseas, Frankel has only had a couple of runners here in Australia,"Darren added.

"I think the future, not only across the other side of the ocean, but in Australia, is very bright for this outstanding stallion."
Frankel stands at Juddmonte Farm in Newmarket in the UK and Darren Dance owns Manningtree Park, home of the highly successful Australian Thoroughbred Bloodstock syndicating and breeding operation.
An opportunity for a Frankel photo
We were lucky enough to visit Juddmonte Farm for a third time earlier this year and took along fellow owner Anthony Vella to meet Frankel.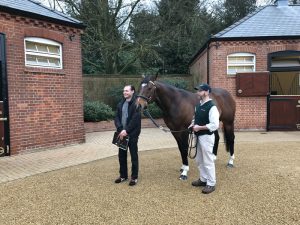 It was the highlight of the trip and thank you to Darren Dance & Juddemonte Farm for making it happen!
Look out for a Frankel near you and witness the greatness for yourself!!!