Racing Victoria set to launch Racing.com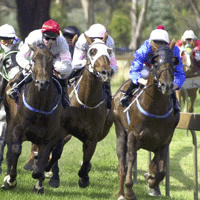 In exciting news for racing in this state Victoria's thoroughbred racing industry is uniting to present the ultimate digital destination, www.racing.com, for fans of the sport in time for the 2014 Spring Racing Carnival.
Racing Victoria (RV), Country Racing Victoria (CRV) and metropolitan clubs Victoria Racing Club (VRC) and Melbourne Racing Club (MRC) – the host clubs at Flemington and Caulfield respectively – are joining forces to present the impressive one-stop digital destination for Victorian racing.
www.racing.com will provide an unprecedented wealth of information on Victorian racing for visitors and be driven by an experienced team of journalists and innovative product team.
The website, which will continue to be expanded beyond its planned September launch, will offer fans and participants a first class experience. Its features include;
– Unrivalled fields and form that allows visitors to choose the level of information they're afforded
– Innovative tools to assist visitors in identifying the best placed horses to select more winners
– Exclusive access to Victorian stewards reports with better integration within form and results
– Detailed event information to plan an enjoyable day at the races with family and friends
– An expansive content offering across written, visual and audio forms to ensure visitors are best informed
– A respected and knowledgeable content team that will deliver the latest news and engaging features on racing in Victoria and abroad
– A dedicated network site to assist those wishing to become an owner and to enhance the experience for over 50,000 existing owners
– A new interactive programming tool for trainers that allows them to map out their plans for each stable runner
– A revamped suite of services to assist participants and to educate and inform those keen to join the racing industry
Plans are also at foot between www.racing.com and Victorian racing's digital rights holders Telstra and TVN to offer free archive vision of Victorian racing for all visitors to enjoy.
It is also the intention for www.racing.com to carry a live odds feed to complement its rich form offering with the industry's Joint Venture partner, Tabcorp, the preferred provider.
www.racing.com will be a network destination, with partners managing their own 'club' sites underneath the hub. The enhanced owners site will be featured alongside the 'club' sites which will be deep in informative content.
www.racing.com will be supported by a mobile app that will be ultimate companion for those enjoying a day's racing at one of Victoria's 67 racetracks.
The digital offering is part of RV's strategy to integrate Victorian racing's media assets to provide efficiencies and a stronger platform from which the industry can engage with new and existing fans and participants.
It will be supported by a new consumer brand for Victorian racing that will be launched ahead of the Spring Racing Carnival also.
www.racing.com will be unveiled in September and will be the first destination for Victorian racing.
Until its launch www.racingvictoria.net.au will remain Victorian racing's principal website with detailed fields, form and news on the sport statewide.
Article courtesy of Racing Victoria website.