Racehorse Syndication the ATB way
by Darren Dance.
I was recently asked the question, what makes ATB different from their competitors in the world of racehorse syndication or what do they offer differently?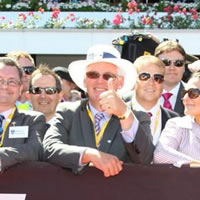 Look it's a difficult question to answer, but I think what I like to think ATB stands for is:
Integrity for our Clients
A Fair Go for our Clients
Keep it Simple
Keep it Fair
Keep it Fun.
That's really what I think we try to make ATB stand for.
To work through that, our model of syndication is really about offering quality racehorses to suit all budgets with a variety of trainers in Australia and overseas.
So looking at a typical domestic yearling, I think it is fair to say that with ATB we work on low margin, so we will buy a horse and our mark-up will be 10% on the cost. In some cases, it is 5%.
It's not really about the money for ATB, it's about running a successful business that can break even and give us a lot of fun, and it's part of our lifestyle.
We work on a low margin and we also do not charge management fees for our admin.
A lot of companies do charge an annual admin fee and it's something that we haven't done because I think the people who have invested in the horses deserve to know where their horse is, and what is happening with the horse, and I don't think they need to be paying for that service.
It is just my own philosophy and I think now with social media and technology that the trainers are very good at updating and keeping owners, and even the syndicators, up to date with everything.
We encourage our trainers to communicate directly with our clients to update them on their horse's progress and we will fill in the gaps, or we will get on to the trainers if we think there needs to be an update that needs to come out that hasn't come out.
We will go to the trials and watch the horse's trial and report back to the owners.
We also run Manningtree Park, a stud farm where the horse's spell, so we can obviously keep owners updated on what's happening to them in the paddock, when they are going back into work, and how they have done.
Communication to our owners is extremely important and we really pride ourselves on our communication to our clients in terms of photos from the paddock and photos from the trainers, videos from trials, along with pre-race and post-race reports from the trainers.
We also like to get a post-race report of what the jockey thought after a race, even though we do not necessarily agree with it in all cases.
We like to work with the trainers in the horse's programs and goals, to determine what we are accurately trying to achieve with the horse.
I think it is a very important aspect. People don't need to buy race horses. If they are not satisfied they can either go somewhere else, or they can buy a boat or go on an overseas holiday.
It's their discretionary income, so if they want to invest in a race horse because they have a passion, they need to be looked after like anyone would look after their client.
We strive to keep them up to date on their horse and we strive to invite them to the stud and to the races and make sure they enjoy the experience because not all horses are going to be successful, not all horses are going to be Group 1 winners.
The majority of horses are moderate, so they might win one or two races and they may not pay their way, so the investors need to at least get some fun and excitement out of the whole process to enjoy it, to reinvest again in the future.
I think it is something that ATB really strive for, to give owners a very good experience, not overcharge them, and the fact that we stay in every horse for a 5 or 10% share because we have the same bug that all horse owners have.
We want to race, we want to go to the races, we want to celebrate wins, and we want to be with the owners when we are coming up with reasons why we did not win.
We just want to enjoy the day and it gets us out of the house and off the farm and generally most of the owners are good fun and we really enjoy their company.
It just becomes a way of life and is something that over the last 20 years that we've been doing and we've just loved it.
In terms of syndicating Melbourne Cup horses, it's been a fantastic experience.
We haven't won a Melbourne Cup, but run 3rd with Jakkalberry and 5th with Dandino, and we've also run 2nd in the Caulfield Cup with Dandino, and we've had a lot of fun.
We have been all over the world with these horses and owners, and we have had some wonderful days.
We've experienced 'Arc Day' in France, been to Royal Ascot (UK) several times, been to Dubai World Cup Night, and we've had a great time at those events for ourselves.
But just to watch the reaction of the owners faces when their horses race there, and even win there, is stuff that you once you've done it, you really appreciate it and really enjoy it.
It gives us a lot of satisfaction and even if we win a race at Hamilton or Mornington once again, there's a lot of satisfaction involved for us and the excitement of talking to the owners post-race.
I think that's what keeps us getting up each day and doing this and it is just a wonderful lifestyle for us, more so than a business, but it is something that we hope to continue on.
To summarise I think we try to syndicate horses for the lowest possible price based on what we paid.
We try to communicate and keep the information up-to-date, and we have a simple slogan in the office:
"As an owner we want you to know what we know and if we don't know we will find out and let you know." – Darren Dance
That basically covers it, and by having a share in a horse with you, we have got money invested in every horse the same as our clients have.
We want to see them do well and we want to see them ridden properly and be in the right races, as much as the owners do.
It is just a love of the sport and it is something that we will do for as long as we can.
For more information on ATB please visit the Australian Thoroughbred Bloodstock website.
Article written by Darren Dance (Owner/Director of Australian Thoroughbred Bloodstock)