Mountains, People & Horses…..DUNKELD!
by Peter Morganti.
Dunkeld is as unique as it comes when we talk about Thoroughbred racing.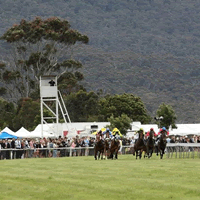 Thousands of racegoers have continually supported this race day, when others with a similar timing or attraction just meander along each year.
Many clubs have actually gone by the wayside and disappeared into racing's graveyard.
We ask why?
The town itself has no licenced trainers with the once a year meeting looking for full outside support to fill its afternoon of racing.
While trainers are scarce, they do form a link with a champion galloper of yesteryear.
Tauto was trained by Bob Agnew for the Remfry family, and used to be stabled on course until it was unfortunately bulldozed back in 2005.
When it's all said and done that is Dunkeld's claim to racing fame despite a few trying their hand at the training game up until the 80's.
With it the odd handy galloper appeared.
The claim of Tauto isn't a bad one at all – 16 wins from 72 starts, many at the top level.
Showing his consistency he had a further 24 placings, 17 of which he was runner-up.
He amassed $174,910 in career earnings with a roll call of wins that would be the envy of many.
A Toorak Handicap, Alister Clark, Sir Rupert Clark and two Liston & Manikato Stakes make for impressive reading.
Add in 1972's WS Cox Plate and this horse would be labelled with every racing superlative in today's racing era.
He is Dunkeld's banner horse – mention Dunkeld, and the kindred racing person knows Tauto.
So back to the question, what has made Dunkeld the attraction piece for tens of thousands of racegoers over many years?
For mine it's the combination of many things. Let's look at the very obvious.
The backdrop is magnificent, with the Grampians giving the feel and balance of a well-manicured old Oak tree for shade and comfort.
Everywhere you look North it is all mountain range with Mt Abrubt looking over the course like a proud Grandfather at Christmas lunch.
The track itself is nothing special, but balances up with all the surroundings a rural town gives.
It's small in circumference (approx. 1600m) and is a continual turning track.
The positive to that is a close-up view for all racing patrons. You get the feel you can give your steed one final backhander to help him across the line.
The intimate feel with horse, rider and trainer also stands out for those who race a horse that day. Its low key, but competitive at the same time.
The club has done very well in recent times, surviving the abolishment of the 'bring your own esky' by turning the event into a 'tent city' with marquees giving patrons plenty of privacy if they wish, but also better management of the crowded areas.
Well spent income has seen a very good walking area in recent years, great bookmakers ring and while the old porta-loos don't suit everyone, plenty adorn the course.
In recent times the club has been rewarded with TAB meetings, and why not when over 10,000 people continually turn up to a paddock with a racecourse in its centre.
The fact this meeting is perfectly situated between a busy Spring in Melbourne and only a stone's throw from Christmas gives many business' the perfect venue for a Chrissie break-up, while also relaxing after a hectic flood of city racing.
Bucks and Hens and their crusaders are there in big numbers too!
It's still a bit mystifying why people flock though!
Fashions are great and well supported, but surely it's not the number one attraction.
Buses galore arrive from everywhere with many breeds of racing folk.
As I read over the positives, I see many are a given at most humble race clubs, except maybe the back drop.
One club that continues to also thrive is Avoca, and they too have a magnificent backdrop with the Pyrenees Ranges.
Is it the serenity of the ranges coupled with the friendly country folk?
To be honest I'm not sure…..but while I live ten minutes from the racecourse, I will continue to follow the droves to the wonderful experience of the Dunkeld races.
Each year is very different for the same reason it's very similar!
You have to love country racing…..let's hope places like Dunkeld are around for years to come!
2014 Royal Mail Hotel William Thomson Dunkeld Cup (1800m)
The $25,000 Royal Mail Hotel William Thomson Dunkeld Cup is Race 6 on the card at 4.20pm AEST.
| | | | | | |
| --- | --- | --- | --- | --- | --- |
| No | Form | Horse | Jockey | Barrier | Weight |
| 1 | 2780 | Lightinthenite | Ms N Beriman | 4 | 61.5 |
| 2 | 206x | Diamonds At Noon | S Vella | 10 | 59.0 |
| 3 | 3310 | Orientaped | J Fry | 6 | 58.5 |
| 4 | 1×54 | Gatalistic | A Mallyon | 12 | 55.5 |
| 5 | 4331 | Spanish Vixen | C Jones (a2) | 9 | 54.0 |
| 6 | 3254 | Kiora | Ms L Meech | 2 | 54.0 |
| 7 | 3426 | Henshaw | D Holland | 8 | 54.0 |
| 8 | 5751 | Just Call Me Bruce | | 3 | 54.0 |
| 9 | 2211 | Peace An Quiet | Ms K Walters | 7 | 54.0 |
| 10 | 6616 | Fresnel | Jack Hill | 1 | 54.0 |
| 11e | 5371 | Eastern Peak | | 11 | 54.0 |
| 12e | x403 | Jill's Generosity | | 5 | 54.0 |
2013 Dunkeld Cup Day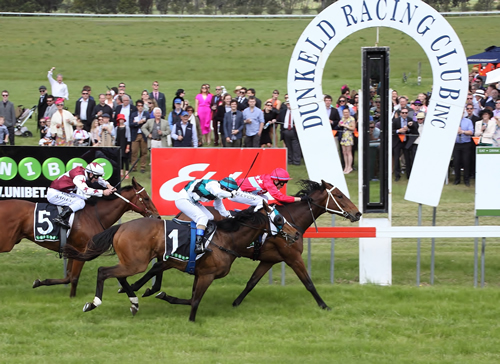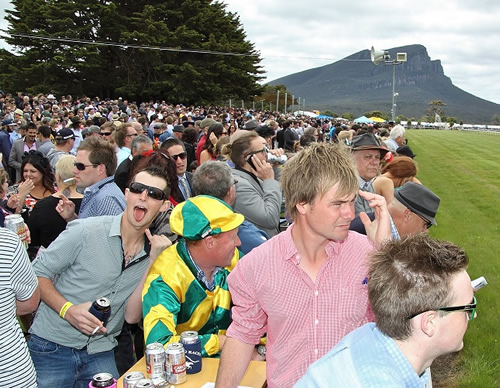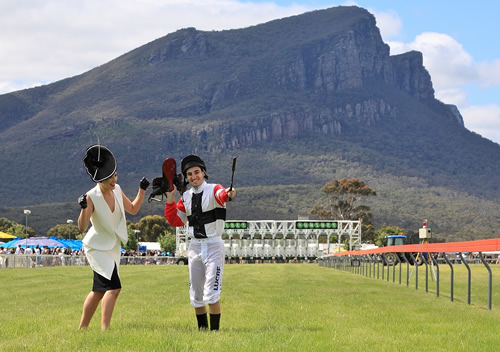 Article & Photos supplied by Peter Morganti – Morgz Racing @morgzracing