Lindsay Park's Tara Clegg the Rock in Firehouse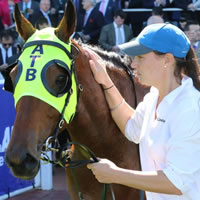 When you get involved in a racehorse you rarely ponder to consider how the horse feels about the whole arrangement.
You do your due diligence, purchase your share, find out when it's going to the races, then sit back and wait, putting your hand in your pocket all the while to be a racehorse owner.
Whereas the horse, he makes his way to the sales to play racehorse lotto, hoping to end up in the hands of a loving owner and taken to a similarly loving stable before venturing to the racetrack if he makes the grade.
Our Fastnet Rock gelding Firehouse Rock is a prime example.
If the horse is lucky, like our very own Firehouse Rock, he'll be purchased by a leading syndicator such as Darren Dance of Australian Thoroughbred Bloodstock.
Darren treats his horses like a part of the family and always goes above and beyond to ensure they are extremely well cared for and enjoying a happy life.
If the horse is sprinkled with a little more luck, just as Firehouse Rock was, he'll end up in a quality stable like Lindsay Park, with outstanding trainers such as David Hayes & Tom Dabernig at the helm.
Lindsay Park is horse heaven for racehorses and it's no surprise to see the Hayes & Dabernig partnership kicking goals all over the country.
If the horse hits the jackpot, just as Firehouse Rock did, he will end up in the loving care of a strapper such as Lindsay Park's Tara Clegg, who will treat him as her own and dote on him every moment she can.
Tara is the Rock in Firehouse, and as an owner, knowing your horse is being cared for in all facets of his racing life, both on and off the track, is both reassuring and rewarding.
"It's inevitable that you will fall in love with certain horses more than others and I seem to have a thing for horses with the name Rock in them," Tara said.

"Firehouse Rock was one of the first horses I ever rode at Lindsay Park and I would love to say it was love at first sight but it was more of a work in progress, but it was worth the wait."

"Every day I started to fall more and more in love with this cheeky monkey which fortunately for me, he has not lost any of, but he is now two stone lighter for his cheeky behavior."
Firehouse Rock was gelded earlier this year and it certainly improved his focus when he returned to racing during the spring, enough to claim his second Inglis Bonus race at Caulfield in September.
No-one was was more excited than his emotional strapper following the victory.
"When Rocky won the Inglis Cup at Caulfield I felt like all my Christmases and birthdays had come at once," Tara said.

"I don't think I have felt that emotional about a horse race since I won my very first jumps race as a jockey, so this win had an overwhelming reaction on me and I found myself in floods of tears, tears of joy!"

"What makes looking after a horse like Rocky even more enjoyable is that with him comes some of the nicest and friendliest owners I have met."

"Some people might not realize it but we as strappers get so much more enjoyment out of knowing that there's a huge loving network behind our favorite ponies."
Tara's favourite pony has netted his loving network $445,850 in prizemoney from just 16 starts and it's fair to say the Lindsay Park environment is the perfect setting for both strapper and pony.
"Working for a team like this is a dream come true," Tara said.

"Getting paid to come in and ride some of Australia's best race horses is such an honor."

"I have been very lucky in my short time here spending some time at the other carnivals and also going to Hong Kong with Criterion which was a huge privilege."

"Working for a company like Lindsay Park is such a privilege and with results like the ones we are experiencing of late make the team so strong."

"As the famous saying goes – "happy staff make for happy horses" – this couldn't be more true in our yard."
The strapper's life is not an easy one, early starts, long days at the races, early nights, it's a tough job.
Maybe we should ponder how the strapper feels about the whole arrangment.
"You don't do this job for any other reason than the love of the horses," Tara said.

"They are what get you out of bed in the morning in the cold the dark the rain."

"Some days you will find yourself at work by 4am then a quick change and off to the races by 9.30 or 10am."

"Sometimes you may not get back until 6 or 7pm in the evening, which means home, shower and bed hopefully by 8pm, so that you can get up and do it all over again the next day."

"But that day might have been made completely worthwhile by the simple fact that your horse won, or even just ran into a place, which in our eyes can mean as much as a win."

"We don't see the prizemoney or the trophies that might go with a win, we just get to enjoy the exhilarating feeling or success from a creature that we adore."
Hopefully Tara will experience that exhilarating feeling again at Flemington on Oaks Day on Thursday when Firehouse Rock contests the second race on the card, the Swisse Wellness Trophy (1800m).
Rocky's record at Flemington reads 5:0-0-0 but he has excuses, including wide gates and racing patterns against him, amongst others, he'll acquit himself well.
One thing's for sure though, Firehouse Rock will be the best cared for horse on course thanks to Tara, and there's no doubt he's very happy with the arrangement, and that's all you can ask for as an owner.
As for Tara, there's much more of her story to be told, but best we keep that for another day, there's a race to get ready for at Flemington.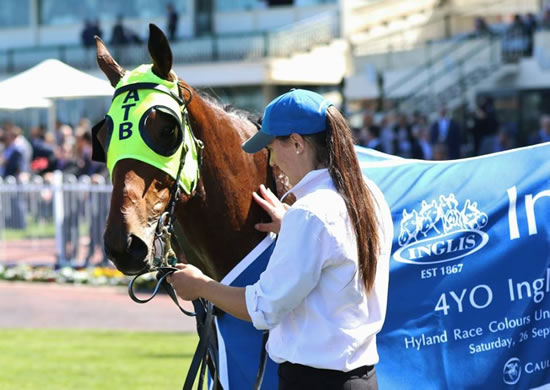 Rocky & Tara share a special moment after his Inglis Cup win at Caulfield
Pictures by Peter Morganti – Morgz Racing @morgzracing