Derby Tracker – Field Sizes and Tempo
by Dean Elliott.
In recent times, we have seen healthy field sizes and as a result, genuine tempos for this 2500m test.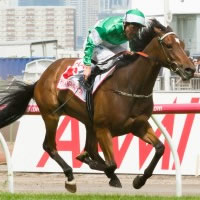 In turn, the stronger the tempo, the more the stamina element of each runner comes to the fore. Let's summarize the previous 6 years:
2013 Polanski (full field of 16)
Genuine tempo set by Pinstripe Lane (faded to 13th). 20 lengths covered field at 1200m.
Polanski was positioned beautifully by Hugh Bowman in 7th place throughout, before pouncing on the lead shortly after entering the straight.
2012 Fivandahalfstar (full field of 16)
Genuine tempo set by Jimando (faded to 16th). 18+ lengths covered field at 1200m.
Fiveandahalfstar along with Super Cool sat just off a good speed and broke away from the field at the top of the straight, very much in the style that they did the following Autumn when running the quinella in the Australian Cup
2011 Sangster (full field of 16)
Good early speed set by Niagara (faded to 13th). 15+ lengths covered field at 1200m where tempo was steadied.
However the pace did quicken up from the 800m making that final furlong a real staying test. James Macdonald, who was criticised for his previous ride on Sangster, was replaced by Hugh Bowman. His timing was centimetre perfect, because one more stride runner-up Induna might have nabbed him.
2010 Lion Tamer (full field of 16)
Given the deteriorating track, it was a good early speed set by Almindoro (whacked away for 6th).
Lion Tamer with Hugh Bowman aboard was able to control the tempo from outside the leader, ensuring they didn't slow up too much. The result was an absolute demolition job. Incidentally, Lion Tamer put the writing on the wall in the Vase with a very strong final 200m on an unsuitable tight track (he bumped the running rail at a crucial stage and was strong through the line). The addition of blinkers in the Derby was a masterstroke. We'll touch more on trainers and jockeys below.
2009 Monaco Consul (field of 10)
A relatively small Derby field that arguable lacked depth of genuine staying types, aside from the winner.
Even/moderate tempo set by Onemorenomore (finished 6th), the race went on at the 700m and by the 200m it was evident who the best horse and staying 3 year-old was going to be.
2008 Rebel Raider (field of 15)
Strong gallop set by The Tiger (faded to 12th). 20+ lengths covered them at 1200m.
Rebel Raider sat just beyond mid-field, with Whobegotyou following. They entered the straight together and soon after Rebel Raider raced away, outstaying his classier rival.
Next up we look at 'Group performed 2yo vs 3yo progressive types'
Article written by Dean Elliott (BDM at William Hill and Horse Racing & Breeding enthusiast)