A pat on the head leads to Imaging at Warrnambool May Carnival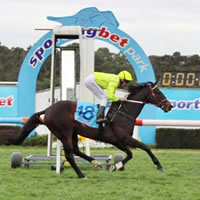 When I took my young daughter to an ATB open day at the Darren Weir stables a couple of years ago I never imagined it would lead me to the first day of the 2015 Warrnambool May Carnival.
My daughter loves horses and we were simply going for a look around the stables to see her favourites, the chestnuts and greys, but when we sauntered past the box of a lively young horse, he lowered his head down for my daughter to pat.
In an instant her heart was captured, and as a father, there's not many better things in life than seeing the sparkle of unbridled happiness in your daughter's eyes.
"He's lovely Dad," said my daughter, "let's get him."
Now the fact that sparkle could result in me getting into another horse had me thinking on many fronts.
I had just got into another horse not too long before that and didn't really need another one, not right away anyway.
Plus I'd have to explain to the other half why I came home with another share in a racehorse when we were only going for a look.
And just as I pondered those thoughts, I ran into one of the nicest people I've ever had the pleasure to meet in racing, Peter Morganti, or 'Morgz', as he is known to all and sundry.
'Morgz' is well known in country racing & sporting circles around the western district, especially down Warrnambool way, and a nicer, more genuine bloke you would not find.
As luck would have it, or fate some might say, Morgz had just taken 5% of this young horse that had just taken my daughter's heart, and there was only 5% left remaining.
The opportunity to keep that sparkle in my daughter's eye, put a sparkle in my own, plus race a horse with a great bloke in Morgz would have to be taken quick.
So take it we did, and we got the last 5% of the Ready's Image x Mystic Chantry 2yo that would end up going to the races as Imaging.
Thought we can always put a sparkle in Mum's eye when it gets to the races and wins.
Fortunately it did, twice actually, in his first seven starts, including an exciting 3.25L win in town where he pulled all the way and was still much too good.
Imaging will line up in the Warrnambool Greyhound Racing Club BM70 Handicap (1200m) on the first day of the 2015 Warrnambool May Carnival on Tuesday 5th May 2015 and will be having his second run this time in.
It is Race 7 on the card at 2.50pm and there will be plenty of owners there to cheer him on, including Burrumbeet Park & Windermere Racing Club President Rod McKinnon and his lovely wife Louise, two more fine people I have met through racing.
Unfortunately the little girl that made it all happen, my daughter, will be at school studying profusely on the first day of the Warrnambool May Carnival, so as good Dads do, I'll go to the races for her and report back later.
They say all roads lead to Warrnambool in May, a simple pat on the head two years ago started me on mine.