Sportsbet Owners Enclosure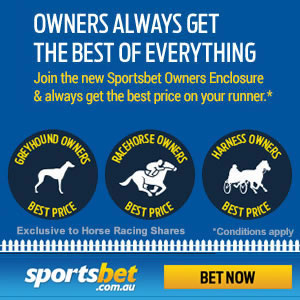 Online bookmaker Sportsbet has some of the best money back special offers online and they are also home to the Sportsbet Owners Enclosure to reward Owners, Trainers and Breeders.
The Sportsbet Owners Enclosure ensures that those that keep the industry ticking are rewarded and it's available to connections across all three codes of racing – thoroughbred, greyhound and harness racing.
Eligible owners that are Sportsbet members will receive the Best of Everything when betting on their horse or greyhound. Get the best of the three Australian Totes, including on course Top Fluctuation for gallops (on course), and ensure the best price every time for your horse or greyhound.
What's more, the very first time you place a Sportsbet Owners Enclosure bet on an eligible runner, you will receive a $100 Bonus Bet to be used on any market of your choice.
Once you are a Sportsbet member, you can join Sportsbet's Owners Enclosure for free to register your ownership, trainer or breeder details.
This can be done by contacing customer service through Live Chat via the 'Contact Us' links on the Sportsbet website, or simply call Sportsbet Customer Service on 1800 990 907, or when placing your first bet on 1800 132 387. To be eligible for the Sportsbet Owners Enclosure your name must appear as a registered owner, or part owner, trainer or breeder.
Visit the Sportsbet Owners Enclosure page for more info and take advantage of a matched first bet bonus up to $501 along the way when you join Sportsbet and place a bet for the very first time.

Terms and conditions apply to all Sportsbet offers and some states are ineligible for free bets due to government legislation.
Free Sportsbet BlackBook
Sportsbet also has a Free BlackBook service to let you to follow your favourite horses or greyhounds.
You can add a runner to your BlackBook by clicking on the 'Add to BlackBook' on any Horse Racing, Harness Racing and Greyhound racecards and Sportsbet will notify you by SMS or email on the day your horse or greyhound is due to race again.
Never miss that winner again with the Free BlackBook at Sportsbet!