Jockeys all the rage for National Jockeys Trust Charity T20 tomorrow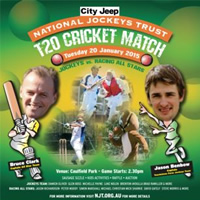 Lara, Tendulkar, Border – some of the greatest batsmen in history were small in stature, but let's be honest, the jockeys playing in tomorrow's National Jockeys Trust Charity T20 would be flat out winning a Maiden at the Picnics when it comes to wielding the willow!
The annual event raises much needed funds for the National Jockeys Trust and the hoops will start $1.73 favourites against the Racing All-Stars who are $2.00 outsiders according to online bookmaker sportsbet.com.au.
Sportsbet will donate $500 for every six hit in the game.
Last year's Man of the Match Damien Oliver is the $3.50 top pick to top score for the jockeys, however Glen Boss $7.00 and Brenton Avdulla ($8.00) are within a couple of lengths.
You'd think former Australian all-rounder Simon O'Donnell would be Ajax odds to top score for the All-Stars, but the bookies are going with the supremely talented Adam White as the favourite at $2.75.
"The jockeys look to be a little short but their price isn't too bad," said sportsbet.com.au's Christian Jantzen.

"As for top runscorer, the wraps on Adam White are huge – anyone whose twitter pic is them as a four-year-old holding a cricket bat must fancy themselves as a batsman."
Visit the National Jockeys Trust website for more information on the National Jockeys Trust Charity T20 event on Tuesday 20th January 2015.
2015 National Jockeys Trust Charity T20 odds
$1.73 Jockeys
$2.00 Racing All-Stars
Jockeys Highest Runscorer odds
$3.50 Damien Oliver
$6.50 Jason Benbow
$7.00 Glen Boss
$8.00 Brenton Avdulla
$8.50 Luke Currie
$9.00 Mitch Goring
$9.00 Daniel Moor
$9.00 Luke Nolen
$12.00 Adam McCabe
$12.00 Nathan Dunn
$12.00 Simon Marshall
$12.00 Dean Yendall
$12.00 Dale Smith
$13.00 Steven Arnold
$15.00 Brad Rawiller
$22.00 Michelle Payne
Racing All-Stars Highest Runscorer odds
$2.75 Adam White
$3.25 Simon O'Donnell
$6.50 Jason Richardson
$7.00 Bryce McGain
$8.00 Steve Morris
$8.50 Jake Norton
$9.00 Michael Christian
$9.00 Bruce Clark
$11.00 Mick Sharkie
$11.00 Mike Symons
$11.00 Lee Freedman
$11.00 Bernard Saundry
$15.00 Matt Hill
$15.00 David Gately
Odds subject to change and latest markets can be found at sportsbet.com.au.