Bennett's Best for 2016 Inglis Premier day at Caulfield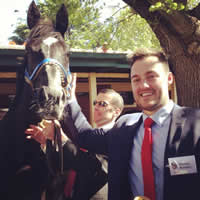 Group racing returns to Caulfield tomorrow and we have Bennett's Best hot off the press for all you punters out there.
Bennett's Best has been on fire over the past couple of weeks, especially with win and each eay bets.
From 8 win bets Bennett's Best has nailed 5 winners at a 63% strike rate, with $10 on each bet returning $178 for an $80 outlay, for a profit of $98.
Each way bets have won 8 of 13 for a 61% strike rate and $10 each way on all runners returned $415 from an outlay of $260, for a profit of $155.
Here's Bennett's Best for Caulfield on Saturday 6th February 2016 in Melbourne and all odds are courtesy of Sportsbet.
RACE 1
Ian Miller Handicap 2000m 1:30pm
There will not be a heap of speed on in this race to get the day off and racing. I think #1 Commanding Time will be close to leading with #8 Prima, if these two stack them up enough then they might control the race. Commanding Time was really strong on the line last start finishing 4th with great sectional times 400m (23.32) Last 200m (11.85). If Craig Williams sets the pace and he has it all his own way out in front he could be really tough to chase down. #5 Tuff Host is gaining 3kgs from last win and the slow pace could really stop him from getting two in a row. Expect him to be coming home late.
Suggested Bet: #1 Commanding Time (Each Way) – $5.00 @ Sportsbet
Exotic Bets: Trifecta and First 4 Boxed 1,5,3,8,9
RACE 2
Robert Hunter Handicap 2400m 2:00pm
With the scratching of Sign Off this makes a interesting race. Use The Lot and Black Jag will both go forward and set a good tempo. I think #5 Danjeu will be the one to beat here and he actually gets a 3kgs swing his way from his last start 2nd to #7 Lucques. He should settle just of the pace and get a good sit from gate 5 and he's back to a distance where he has a good record (5 starts – 2 wins plus a 2nd and 3rd. #3 Second Bullet is in good form but has never been out to the 2400m, although the way he fought last week suggests he may get it, and he will be right in the finish. #9 All I Survey will be the roughie with a big chance. His win last start with the 52kgs on his back was good and his last 400m was in (22.88), 200m (11.74). Same weight, same track, great chance and will be charging late
Suggested Bets: #5 Danjue (Win) $4.00 @ Sportsbet #9 All I Survey (EW) $19 @ Sportsbet
Exotic Bets: Quinella, Trifecta and First 4 Boxed – 5,9,3,2
RACE 3
Mal Seccull Handicap 1600m 2:30pm
There should be a reasonable speed on here with Here To There and Rose Of Texas taking it up at the front. I think this really sets it up for #2 Prix Dor which drops to 57.5kgs with the claim. Last week he raced wide throughout without cover and still stuck on well finishing 6th, just 3.9 lengths off Pemberley, who looked impressive, and worth noting he gave weight away to as well. Also his run peaked about 150m from home which suggests 1600m is his distance, with 4 Starts for 2 wins and one placing. His last win over 1600m was good, and his last 400 (22.32) and 200 (11.40) were super. #4 Distant Rock chased #2 Prix Dor gamely last start but could not catch him, I think he will be finishing off well and these two will fight it out. #7 Hero Master should not be $18 and must go in exotics.
Suggested Bet: #2 Prix Dor (EW) $8.50 @ Sportsbet
Exotic Bets: Trifecta and First 4 Boxed 2,4,7,9,14
RACE 4
Chairman's Stakes 1000m 3:00pm
I cant see anything beating #1 Extreme Choice here. His first start and win at Royal Randwick in the $504k Inglis Nursery was super. He led and did the work, and on straitening he burst away from them and ran a great time in doing so, 56.85. Back him if over $2 otherwise include in multis. For those looking for a bet in this race I think the first 4 and tris are the way to go
Suggested Bet: Trifecta or First 4 – Rover Bank 1 then include 2,3,7 Bet now at Sportsbet
RACE 5
Inglis Premier 1200m 3:30pm
I see the #3 Hell Of An Effort getting to a easy lead from gate three. His last start win was really impressive and also ran a great time too 1:04.32. I think his run to the line last start was a lot stonger than other rivals in this race who competed against him in the same race at Flemington. #4 Lessyd and #5 Hey Doc they both looked out on their feet going to the line. I think he will be the one to run down again as he had a bit still to give. #3 Hell of an Effort on top for me
Suggested Bet: #3 Hell Of An Effort (Win) $4.50 @ Sportsbet
RACE 6
John Moule Handicap 1400m 4:00pm
Tricky Race stick to Trifectas and First 4 bets here
Suggested Bet: Trifecta or First 4 Boxed – 8,3,4,1,2 Bet now at Sportsbet
RACE 7
W.J. Adams Stakes 1000m 4:30pm
If #11 Runsati can get across with out to much work from gate 11 he will lead and be hard to chase down. He is very fit and I have really liked the way he can kick clear when straightening. #1 Diamond Oasis will be just of the pace and is a pretty sharp horse who will be right in the finish. I also think #2 Reldas will run well but looking for further, as for #3 Atmospherical, although his jump out was quite impressive. Watch for both late.
Suggested Bet: #11 Runsati (EW) $10 @ Sportsbet
Exotic Bets: Tri and First 4 Boxed – 11,1,3,2,9
RACE 8
Manfred Stakes 1200m 5:00pm
I have followed a horse here since his first win and got him at $20 on Boxing Day where he won again. He has a fitness edge on a few of these and should get to the front and lead. I have really liked the way he finds the line and he will take plenty of running down. Been running great times over 1200m and last start he had more up his sleeve and ran it in 1:09.9, last 400 (22.65), 200m (11.57). If he can better that with more up his sleeve then they wont catch him, I will be sticking with him to go up in the grades
Suggested Bet: #7 Golden Spin (Win) $3.80 @ Sportsbet
RACE 9
Thomas North Handicap 1400m 5:30pm
I think #4 Fast Approaching gets the gun run again and will be the one to chase down. There's a bit of speed up front for her to get a sit off the pace which could really help her here. This could be a really tricky race to bet in so I would stick to Tris or First 4 bets
Suggested Bet: Trifecta and First 4 Boxed – 4,3,8,1,10 Bet now at Sportsbet
Claim a $501 First Bet Bonus when you join Sportsbet

Join Sportsbet here now for a matched First Bet Bonus up to $501!
Caulfield Quaddie Selections
Race 6: 1,2,3,4,8
Race 7: 1,2,3,9,11
Race 8: 1,4,6,7 or 7 one out
Race 9: 1,3,4,8,10
Outlay of $50 = 10% – Bet now at Sportsbet
Sydney racing is at Randwick tomorrow and there's one to keep an eye on up there.
R5-#12 Soviet Secret was held up for a run in her first start and has travelled to Sydney for her next assignment. Worth looking at each way at around $8 as hit the line well on debut.
Check out Bennett's Best winning day at Flemington last Saturday.