Bennett's Best for 2016 C.F. Orr Stakes Day at Caulfield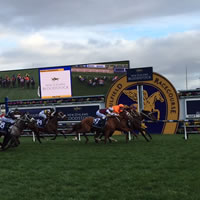 The 2016 C.F. Orr Stakes meeting at Caulfield tomorrow is set to be a beauty and Bennett's Best are in the house to help punters in their ongoing battle with the bookies.
A capacity field will line up in the feature race of the day, the $500,000 Group 1 C.F. Orr Stakes, which is Race 7 at 4.30pm on a packed nine-event card at 'The Heath'.
It was a tough day for punters last Saturday, including Bennett's Best, but the Torquay Kid bounced back through the week with a couple of $10 shots on Sunday and Wednesday in Sandon's Stage at Sale and Top Ravine at Sandown.
If you're having a bet at Moonee Valley tonight then here are two to watch from Bennett's Best.
Moonee Valley – Race 3
#6 Polar Vortex was held up last start at Flemington then when he got clear he really found the line, was really only clear from 180m and had a sizzling last 200m (11.92). Screaming out for the 1600m, gets a good jump from gate two, and hopefully sits close enough to make a run at them. Look for him late!
Suggested Bet: #6 Polar Vortex (Each Way) – Bet now at Sportsbet
Moonee Valley Race 4
Just Got Lucky and Danuki should set a good tempo here, which should give the smart Godolphin filly a sit just off the pace from gate two. She was green but impressive beating home the likes of Mahuta, Jervois night and Polar Vortex. Recent Jump out was good too.
Suggested Bet: #9 Glib (Each Way) – Bet now at Sportsbet
Below are Bennett's Best for Caulfield tomorrow and we highly recommend a Sportsbet account for betting on horse racing.
RACE 1
#7 Fast And Free will more than likely go to the front and set a moderate pace, which should make #3 Tashbeeh the one to beat from gate two. He should get a soft run just off the pace and be full of running to the line. Another plus is the 2kg claim from Dylan Dunn which brings him to 57 kilograms.
Suggested Bet: Tashbeeh (WIN) – Bet now at Sportsbet
RACE 2
No Bets
RACE 3
#1 Sword Of Light will have to do a little bit of work from gate 13 to get across. If she can get across without doing too much work, she will be very hard to beat again. Really love the way she gets to the line and 1100m ideal now. #2 Concealer was impressive on debut winning the Group 3 Emirates Airline Plate, running her last 200m in 11.56 that day. She was impressive in her recent jumpout when under a tight hold. I really think these two will fight it out, but I am sticking with a horse who I think has more up her sleeve.
Suggested Bet: #1 Sword of Light (Each Way) – Bet now at Sportsbet
RACE 4
No Bets
RACE 5
Looks like #11 Heatherly will set the speed here and be the one to run down. She comes in at 51kgs, 5 kilos less then last start. #3 Politeness will be steaming home late but I think she will be just getting ready for bigger races later in the autumn and will lack the fitness edge. #4 Husson Eagle is in some good form and has been running some nice times, goes well fresh has a good record at the distance. #10 Lake Geneva was impressive in her jump out and could get a nice sit off the pace. Comes in well with the low weight and watch for her late.
Suggested Bet: Trifecta or First 4 Boxed 11,4,3,10,1,2 – Bet now at Sportsbet
RACE 6
There is no reason why #1 Mahuta can't win again. Gets a great run from gate one and should lead, set the pace, and others will have to do work then try and chase him down. I cant see them getting him, and his on top for me.
Suggested Bet: #1 Mahuta Win – Bet now at Sportsbet
RACE 7
There will be some pace on here with Entirely Platinum and Turn Me Loose going forward. #7 Turn Me Loose may have to do a little bit of work early to get across. I don't think he will be fully wound up and may just get pipped after doing a bit of work early. He's looking for a touch longer and grand final is 2-3 runs away. #17 Suavito will do no work early from gate one and should get a soft run midfield. SHe's had 5 Starts for 3 wins at the track and distance. Worth noting she beat home Dissident here last February in the Group 1 Futurity Stakes and she'll be flying Late.
Suggested Bet: #17 Suavito Each Way – Bet now at Sportsbet
Exotic Bets: Trifecta Or First 4 (go wide could pay huge) Boxed 17,1,3,4,5,7,9,11,12
RACE 8
Tricky Race that could have a bit of speed on. Tudor, Burning Front and Sadaqa will all go forward. I think #11 Pure Karma is the forgotten horse from last week who was caught 3-wide the trip and still got home well. Should be fitter again and like the back-up. Look for him late.
Suggested Bet: #11 Pure Karma (Each Way) Bet now at Sportsbet
Exotic Bets: Trifecta or First 4 boxed – 1,2,5,6,9,11
RACE 9
Does not look to be a heap of speed on here and Choose and Shakespearean Lass should take up the running. If #4 Shakespearean Lass can set her own tempo expect her very hard to catch. She can put 2 lengths on them early in the straight with her turn of foot and she is really fit and running impressive times. #9 Azkadellia has a great first up record (3 for 3 wins) and she comes off probably the run of the spring in the Group 1 Myer Classic, expect her to be flying late. #12 Chiavari could run a sneaky race. Ran ok against Supido last start could be value for First 4 bets.
Suggested Bet: #4 Shakespearean Lass (Each Way) – Bet now at Sportsbet
Exotic Bets: Trifecta or First 4 Boxed – 4,9,1,2,5,6,12
Caulfield Quadrella
The quaddy legs are on the last four races which are Races 6, 7, 8, 9.
R6 – 1
R7 – 1,3,4,5,7,8,9,10,11,12,13,17,18
R8 – 1,2,4,5,6,9,11
R9 – 1,4,5,6,9
Investment of $50 gets you 10.98% of the quaddy!
Visit Sportsbet for the latest Moonee Valley and Caulfield odds.