Bennett's Best for 2016 Blue Diamond Stakes day at Caulfield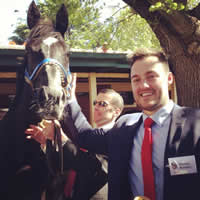 A huge meeting at Caulfield tomorrow for Blue Diamond Stakes day and punters are in for a treat on one of the great betting days of the autumn.
The Group 1 Blue Diamond Stakes, Group 1 Oakleigh Plate and Group 1 Futurity Stakes highlight a packed 9-event card at 'The Heath" and with so much value on offer for punters, we've got Bennett's Best to put you on the right path!
RACE 1
1:00pm 2000m Mornington BMW Cup Prelude
Tricky start to the day here, I think there will be a moderate speed with 2 Bonfire, 10 Wexford Town and 12 Magnus Slipper to take up the running. 8 Assign will get the gun run just off the speed from a good gate in 4, wont have to do any work should get a pretty soft run this time in. Which will make a big difference from last start where he was 3 wide the trip and carried 62kgs. Drops to 54kgs for this which is huge, could be hard to hold out in the straight – the extra 200m is ideal.
4 Tashbeeh has been up for a while now but always thereabouts. Williams goes on and I think these two will fight it out
Suggested Bet: 8 Assign (Each Way) – Bet now at Sportsbet
Exotic Bets: Trifecta or First 4 boxed – 8,4,11,1,2,3 – Bet now at Sportsbet
RACE 2
1:37pm 1200m Ladbrokes Zeditave Stakes
Expecting an even tempo here with 5 Bassett & 4 Well Sprung to be leading. Good race here and will be some horses to follow out of it. I think there will be more speed on thaen the Manfred where 3 Puritan still found a way to fly home in his last 400m (22.56) and beat a top field which has already shown form with Palentino. There is no reason why he can't do the same here. Jason Warren said his our new stable star and I believe he could be right – watch for him late.
5 Bassett is the other horse in the race who will more then likely fight it out with him. He has great fresh form and his jump out was really good. Will be on the pace and the one to chase down.
Suggested Bet: Sticking with #3 Puritan (Each Way) – Bet now at Sportsbet
Exotic Bets: Trifecta or First 4 Boxed – 3,5,6,11,8 – Bet now at Sportsbet
RACE 3
2:12pm 1400m Polytrack Angus Armanasco Stakes
I would think there will be just a moderate tempo here with 12 Let Her Rip and 5 Cano taking up the lead with 8 Catch A Fire not far off them. I really think that 1 Pasadena Girl is the class and the one to beat in this, her rating tells us that 21 above next best and only gives away 2.5kgs. I know when you read at 1400, two starts for nothing, but in both those she was good behind some quality horses including Pride Of Dubai, only 1.4L off. If she produces that run she will rocket home over the top of them
7 Egypt was great last week her last 200 (11.32) flying home again you would think and is in the mix. They are the two to beat
Suggested Bet: 1 Pasadena Girl (Each Way) – Bet now at Sportsbet
Exotic Bets: Trifecta or First 4 Boxed – 1,4,7,5,12,8 – Bet now at Sportsbet
RACE 4
2:47pm 1800m Ladbrokes Caulfield Autumn Classic
The news with Mahuta not running throws this race wide open now
Now with him out there does not seem to be a strong tempo, I think 3 Ayers Rock and 12 Prior Engagement will go forward and I think 9 Top Ravine will get across from the tough gate, 8 Tally has been impressive and the horse to beat now, he found the line really well at the valley last start over 1600. But I really think there is one horse here who is really fit and I am happy to back him now as I did 2 weeks back at $10 and he showed his a stayer, won at the 1800 was very green in last two wins if he settles well he may take some chasing down.
13 Powderworks does get a nice weight swing 4.5kgs against 9 Top Ravine and that could be crucial in the finish. Expect her late as she came home well last start
Suggested Bet: 13 Powderworks (Each Way) – Bet now at Sportsbet
I will also have something small on 9 Top Ravine  – Bet now at Sportsbet
Exotic Bets: Trifecta or First 4 Boxed – 2,4,5,8,9,13,12 – Bet now at Sportsbet
RACE 5
3:25pm 1800m Crown Golden Ale Peter Young Stakes
I am happy to watch this race for now and see what a few of the older ones have left. But if you are looking for an each way chance I would have something on 13 Fenway. Got blocked the whole way last start and was running up their backs
No Bets
RACE 6
4:05pm 1400m italktravel Futurity Stakes
This will sound like a repeat from 2 weeks back but if she repeats again we will be all happy, 3 Turn Me Loose and 7 Entirely Platinum go forward again and Turn Me Loose may have to do a touch of work again from drawing wide again. I still believe his Grand Final is another run away, but he will be very hard to run down though.
10 Suavito will do no work again and get a soft run just off the pace. She has now had 6 starts at the track for 4 wins and 2 placings. plus track and distance form shows 4 starts for 2 wins and 2 placings. She beat Dissident in this race last year and I see her flying late and doing the same
Suggested Bet: 10 Suavito (Each Way) – Bet now at Sportsbet
Exotic Bets: Trifecta or First 4 Boxed – 10,3,4,11,1 – Bet now at Sportsbet
RACE 7
4:45pm 1200m Ladbrokes Blue Diamond Stakes
Very tough race as speed is going to be on. 1 Extreme Choice will try and cross from the wide gate and lead but he may have to work quite tough. Didn't seem to bother him in the Chairman's Stakes when he worked hard early but still jogged away on them. I am going to take him to win, because he does it so easy and his times are outstanding.
Those looking for some value I don't mind 2 Valliano ( only horse to win over 1200) and won well, and I really like 10 Samara Dancer. She showed a huge turn of foot and has a great gate and fitter again, last 400m (22.77)
Suggested Bet: 1 Extreme Choice (Win) – Bet now at Sportsbet
Exotic Bets: Trifecta and First 4 boxed – 1,2,10,3,11,5,14,15 – Bet now at Sportsbet
RACE 8
5:22pm 1100m Clamms Seafood Oakleigh Plate
Speed will be on here and 16 Heatherley will set it again and be very tough to chase down shes the one to beat, I really don't think they will catch her she is fit as they come.
1 Flamberge has drawn a bad gate but has some great form around the best beating by Chautauqua twice in the last 100, I think he will fly home late recent jump out was ok great each way shot
Suggested Bet: 16 Heatherly (Win) – Bet now at Sportsbet | 1 Flamberge (Each Way)  – Bet now at Sportsbet
Exotic Bets: First 4 Boxed – 16,18,1,13,8,9,7,3 – Bet now at Sportsbet
RACE 9
6:00pm 1400m Premier Signs Mannerism Stakes
There is a genuine tempo on with 4 Choose and 3 Tuscan Sling taking it up with 1 Miss Rose Delago. But I am happy to take on the hot priced fav here and love a mare in form, which is 3 Tuscan Sling. The trip the only worry but she is bred to get 1400m. The 10 Azkadillia will fly late but I think the fit horse will get the job done.
Suggested Bet: 3 Tuscan Sling (Each Way) – Bet now at Sportsbet
Follow Bennett's Best on Twitter at @nathandandino