2013 Melbourne Cup weights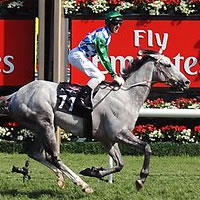 Ruling 2013 Melbourne Cup favourite Puissance De Lune has been allotted 54.5 kilograms for the 'race that stops a nation' on the first Tuesday in November.
The Darren Weir trained stayer is $5.50 in latest sportsbet.com.au betting markets from last year's runner-up and second favourite Fiorente, from the Gai Waterhouse stable, at $8.00 and set to carry 55 kilograms, up 1.5 kilos from last year.
Australian Thoroughbred Bloodstock's Dandino received 54.5 kilograms for this year's Melbourne Cup and is currently $26 at sportsbet.com.au.
The 2013 Melbourne Cup (3200m) is scheduled for Race 7 on the card at Flemington on Tuesday 5th November 2013, with a total of 134 entries.
2013 Melbourne Cup odds
– 2013 Melbourne Cup odds
– 2013 Caulfield Cup odds
– 2013 Caulfield Cup / Melbourne Cup Double odds
Melbourne Cup first acceptances will be out on 8th October.
2013 Melbourne Cup weights
Of $6,000,000 – 3200m – Group 1 – Handicap – Field Limit: 24
| | | | | |
| --- | --- | --- | --- | --- |
| No | Horse | Trainer | Weight | Ballot |
| 1 | Dunaden (Fr) | Mikel Delzangles | 58.5 | 1 |
| 2 | Green Moon (Ire) | Robert Hickmott | 57.5 | 2 |
| 3 | Red Cadeaux (Gb) | Ed Dunlop | 56.5 | 4 |
| 4 | Sea Moon (Gb) | Robert Hickmott | 56.5 | 6 |
| 5 | It'S A Dundeel (Nz) | Murray Baker | 56.0 | 3 |
| 6 | Manighar (Fr) | Peter G Moody | 56.0 | 7 |
| 7 | Brown Panther (Gb) | Tom Dascombe | 55.0 | 15 |
| 8 | Fiorente (Ire) | Gai Waterhouse | 55.0 | 11 |
| 9 | Foreteller (Gb) | Chris Waller | 55.0 | 16 |
| 10 | Joshua Tree (Ire) | Ed Dunlop | 55.0 | 10 |
| 11 | Ahzeemah (Ire) | Saeed Bin Suroor | 54.5 | 18 |
| 12 | Dandino (Gb) | Marco Botti | 54.5 | 20 |
| 13 | Ethiopia | Pat Carey | 54.5 | 17 |
| 14 | Mourayan (Ire) | Robert Hickmott | 54.5 | 23 |
| 15 | Puissance De Lune (Ire) | Darren Weir | 54.5 | 24 |
| 16 | Royal Diamond (Ire) | Johnny Murtagh | 54.5 | 22 |
| 17 | Sangster (Nz) | Trent Busuttin & Natalie Young | 54.5 | 19 |
| 18 | Super Cool | Mark Kavanagh | 54.5 | 8 |
| 19 | Bayrir (Fr) | Chris Waller | 54.0 | 30 |
| 20 | Beaten Up (Gb) | Chris Waller | 54.0 | 32 |
| 21 | Masked Marvel (Gb) | Robert Hickmott | 54.0 | 29 |
| 22 | Mount Athos (Ire) | Luca Cumani | 54.0 | 27 |
| 23 | Royal Empire (Ire) | Saeed Bin Suroor | 54.0 | 28 |
| 24 | Voleuse De Coeurs (Ire) | Dermot K Weld | 54.0 | 9 |
| 25 | Waldpark (Ger) | Anthony Freedman | 54.0 | 31 |
| 26 | Carlton House (Usa) | Gai Waterhouse | 53.5 | 79= |
| 27 | Ernest Hemingway (Ire) | Aidan O'Brien | 53.5 | 37 |
| 28 | Glencadam Gold (Ire) | Gai Waterhouse | 53.5 | 34 |
| 29 | Hawkspur | Chris Waller | 53.5 | 14 |
| 30 | Mr Moet | Adam Durrant | 53.5 | 38 |
| 31 | Seville (Ger) | Robert Hickmott | 53.5 | 79= |
| 32 | Simenon (Ire) | William Mullins | 53.5 | 36 |
| 33 | Tanby | Robert Hickmott | 53.5 | 35 |
| 34 | Fawkner | Robert Hickmott | 53.0 | 81= |
| 35 | Jet Away (Gb) | David Hayes | 53.0 | 81= |
| 36 | Kelinni (Ire) | Chris Waller | 53.0 | 39 |
| 37 | Main Sequence (Usa) | David Lanigan | 53.0 | 40 |
| 38 | Moriarty (Ire) | Chris Waller | 53.0 | 42 |
| 39 | My Quest For Peace (Ire) | Peter G Moody | 53.0 | 41 |
| 40 | Verema (Fr) | Alain de Royer Dupre | 53.0 | 21 |
| 41 | Brigantin (Usa) | Pat Carey | 52.5 | 45 |
| 42 | Colour Vision (Fr) | Saeed Bin Suroor | 52.5 | 43 |
| 43 | Forgotten Voice (Ire) | Nicky Henderson | 52.5 | 46 |
| 44 | Leading Light (Ire) | Aidan O'Brien | 52.5 | 5 |
| 45 | Moudre | Ciaron Maher | 52.5 | 83 |
| 46 | Silent Achiever (Nz) | Roger James | 52.5 | 25 |
| 47 | Thought Worthy (Usa) | Robert Hickmott | 52.5 | 44 |
| 48 | Ibicenco (Ger) | Peter G Moody | 52.0 | 47 |
| 49 | Julienas (Ire) | Gai Waterhouse | 52.0 | 49 |
| 50 | Kesampour (Fr) | Peter G Moody | 52.0 | 84= |
| 51 | Mr O'Ceirin (Nz) | Ciaron Maher | 52.0 | 48 |
| 52 | Pakal (Ger) | Mick Price | 52.0 | 84= |
| 53 | Precedence (Nz) | Bart & James Cummings | 52.0 | 51 |
| 54 | Quintessential (Nz) | John Sargent | 52.0 | 33 |
| 55 | Royal Descent | Chris Waller | 52.0 | 13 |
| 56 | Sneak A Peek (Ity) | Peter G Moody | 52.0 | 84= |
| 57 | Songcraft (Ire) | Saeed Bin Suroor | 52.0 | 50 |
| 58 | Lidari (Fr) | Peter G Moody | 51.5 | 53 |
| 59 | Massiyn (Ire) | Robert Hickmott | 51.5 | 55 |
| 60 | Sun Central (Ire) | William Haggas | 51.5 | 54 |
| 61 | Tuscan Fire | Dan O'Sullivan | 51.5 | 52 |
| 62 | Dear Demi | Clarry Conners | 51.0 | 26 |
| 63 | Hartani (Ire) | Robert Hickmott | 51.0 | 62 |
| 64 | Lucky Chappy (Ire) | Pat Carey | 51.0 | 88 |
| 65 | Meleagros (Ire) | Alan Couetil | 51.0 | 61 |
| 66 | Polish Knight (Nz) | Michael, Wayne & John Hawkes | 51.0 | 56 |
| 67 | Rialya | Lloyd Kennewell | 51.0 | 57 |
| 68 | Tres Blue (Ire) | Gai Waterhouse | 51.0 | 12 |
| 69 | Biographer (Gb) | David Lanigan | 50.5 | 69 |
| 70 | Gris Caro (Gb) | Jake Stephens | 50.5 | 89= |
| 71 | Ironstein | Gerald Ryan | 50.5 | 67 |
| 72 | Less Is More (Fr) | David Vandyke | 50.5 | 89= |
| 73 | Motivado (Gb) | David Hayes | 50.5 | 66 |
| 74 | Pelicano | Tony McEvoy | 50.5 | 89= |
| 75 | Prince Cheri (Fr) | David Vandyke | 50.5 | 89= |
| 76 | Tremec (Nz) | John P Thompson | 50.5 | 64 |
| 77 | Agent Bauer | Gwenda Markwell | 50.0 | 93= |
| 78 | Angola | Pat Carey | 50.0 | 93= |
| 79 | Araldo (Gb) | Michael Moroney | 50.0 | 73 |
| 80 | Aribaa (Gb) | Mark Kavanagh | 50.0 | 93= |
| 81 | Award Season (Ire) | Kris Lees | 50.0 | 93= |
| 82 | Bachelor Royal (Nz) | Andrew J Payne | 50.0 | 93= |
| 83 | Back In Black (Nz) | John Steffert | 50.0 | 93= |
| 84 | Bass Strait (Nz) | David Hayes | 50.0 | 93= |
| 85 | Bit Of Hell (Ire) | Mick Price | 50.0 | 78 |
| 86 | Bono Vox | David Hayes | 50.0 | 93= |
| 87 | Caravan Rolls On (Gb) | Peter Chapple-Hyam | 50.0 | 93= |
| 88 | Castlzeberg (Nz) | Danny O'Brien | 50.0 | 71 |
| 89 | Charleston Lady (Gb) | David Vandyke | 50.0 | 93= |
| 90 | Danas Best | Gai Waterhouse | 50.0 | 93= |
| 91 | Desert Jeuney | Nigel Blackiston | 50.0 | 93= |
| 92 | Ecuador (Nz) | Gai Waterhouse | 50.0 | 93= |
| 93 | Foundry (Ire) | Aidan O'Brien | 50.0 | 68 |
| 94 | Fruehling (Ire) | Anthony Freedman | 50.0 | 93= |
| 95 | Garud (Ire) | Michael Moroney | 50.0 | 93= |
| 96 | Gerontius | David Hayes | 50.0 | 93= |
| 97 | Ghost Protocol (Ire) | Paul Perry | 50.0 | 93= |
| 98 | Goldoni (Ire) | David Hayes | 50.0 | 77 |
| 99 | Hammerfest (Gb) | John Hammond | 50.0 | 93= |
| 100 | Hippopus (Nz) | Gai Waterhouse | 50.0 | 65 |
| 101 | Keep Cool (Nz) | Danny O'Brien | 50.0 | 93= |
| 102 | Kingdoms (Nz) | John O'Shea | 50.0 | 58 |
| 103 | Let'S Make Adeal | Nigel Blackiston | 50.0 | 70 |
| 104 | Lucky Angel | Tony Vasil | 50.0 | 74 |
| 105 | Oasis Bloom | Peter Morgan & Craig Widdison | 50.0 | 87 |
| 106 | Only A Pleasure (Ire) | Andre Fabre | 50.0 | 72 |
| 107 | Opinion (Ire) | Sir Michael Stoute | 50.0 | 93= |
| 108 | Our Desert Warrior | Gai Waterhouse | 50.0 | 93= |
| 109 | Packing Empire (Nz) | David Hayes | 50.0 | 93= |
| 110 | Pale Mimosa (Ire) | Dermot K Weld | 50.0 | 60 |
| 111 | Peal Of Bells | Gwenda Markwell | 50.0 | 75= |
| 112 | Planet Purple | Kerry Parker | 50.0 | 93= |
| 113 | Practiced | Robert Hickmott | 50.0 | 93= |
| 114 | Ranked (Ire) | Robert Hickmott | 50.0 | 93= |
| 115 | Ruscello (Ire) | Ed Walker | 50.0 | 93= |
| 116 | Saghann (Ire) | Anthony Freedman | 50.0 | 93= |
| 117 | Sahara Sun (Chi) | Ciaron Maher | 50.0 | 93= |
| 118 | Salon Soldier (Ger) | Kris Lees | 50.0 | 93= |
| 119 | Sharalam (Ire) | Mark Kavanagh | 50.0 | 93= |
| 120 | Shoreham | Saab Hasan | 50.0 | 59 |
| 121 | Sierra Nevada (Nz) | Richard Otto | 50.0 | 93= |
| 122 | Sir John Hawkwood (Ire) | Craig Ritchie | 50.0 | 93= |
| 123 | Star Of Tralee (Nz) | David Hayes | 50.0 | 93= |
| 124 | Star Rolling | Peter Morgan & Craig Widdison | 50.0 | 93= |
| 125 | Talent Show | Graeme Ballantyne | 50.0 | 63 |
| 126 | Tenby Lady (Usa) | Gai Waterhouse | 50.0 | 93= |
| 127 | Tonopah (Usa) | Craig Ritchie | 50.0 | 93= |
| 128 | Trevieres (Fr) | Markus Nigge | 50.0 | 93= |
| 129 | Vaquera (Nz) | Gai Waterhouse | 50.0 | 75= |
| 130 | Warwarick | David Hayes | 50.0 | 93= |
| 131 | Why Not (Ger) | David Hayes | 50.0 | 93= |
| 132 | Wind Bender | Chris Waller | 50.0 | 93= |
| 133 | Wrotham Heath (Gb) | David Hayes | 50.0 | 93= |
| 134 | Order Of The Sun | Gai Waterhouse | 49.0 | 93= |